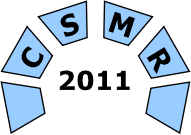 Navigation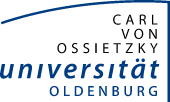 Venue
CSMR 2011 takes place at Campus Haarentor of University of Oldenburg, at the Hörsaal-zentrum building (A14). The building is located at the corner of Uhlhornsweg and Ammerländer Heerstraße / Ofener Straße.
Map of Oldenburg.
The Conference Office (Registration) is found at the lobby of Hörsaalzentrum.
Imprint

Published by

Carl von Ossietzky Universität Oldenburg
Ammerländer Heerstr. 114-118
26129 Oldenburg
Germany
Phone: +49 441 798-0
Fax: +49 441 798-3000
E-Mail: koordinator@uni-oldenburg.de
WWW: http://www.uni-oldenburg.de
Oldenburg University is a corporation under public law. It is legally represented by the President.

Supervisory authority: Lower Saxony Ministry of Science and Culture, Leibnizufer 9, D-30169 Hannover

Sales tax identification number in accordance with § 27a Sales Tax Law: DE 811184499

Responsible for the content of the CSMR 2011 website (http://se.uni-oldenburg.de/csmr2011), in accordance with § 55 Absatz 2 RStV, is Prof. Dr. Andreas Winter.
In addition to this there are remote services, partly running on external servers, for which other persons bear responsibility as can be seen on the respective pages.
Websites starting with www.<servername.>uni-oldenburg.de/~, www.member.uni-oldenburg.de/, www.staff.uni-oldenburg.de/ or www.student.uni-oldenburg.de/ fall into the responsibility of the respective individuals (as indicated by a name in the URL) or the specific institutions. Oldenburg University accepts no liability for the content of these pages, as they are not official university publications.
Disclaimer: despite careful checking of the content we accept no liability for the content of external links. We have no control over content and structure of these pages. The content of the linked pages, including those university pages mentioned above is exclusively the responsibility of those who issue this information.
Copyright
The copyright for any material on the pages of Oldenburg University is reserved. Any duplication or use of such pictures, diagrams, sounds or texts in other electronic or printed publications is not permitted without the university´s explicit agreement.