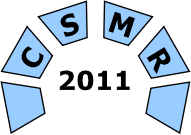 Navigation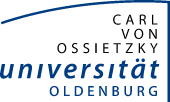 CSMR 2012
Travel Information
Oldenburg is located in the north-west of Germany, about 40 kilometers to the west of Bremen. It is not to be confused with Oldenburg in Holstein and sometimes written Oldenburg (Oldenburg) or Oldenburg (Oldb) to make that distinction.
The conference takes place at Campus Haarentor (see below) of the Carl von Ossietzy University, in the Hörsaalzentrum building (A14).
Travel by Air
Closest to Oldenburg is Bremen Airport (BRE) . From Bremen, you will reach Oldenburg in less than an hour, traveling by rail or by car.
Other nearby airports are Hamburg (HAM), Hannover (HAJ), and Münster/Osnabrück (FMO) . It should take no more than two hours time to reach Oldenburg from any of these airports, traveling by rail or car.
The Oldenburg-based airport shuttle service Luftibus offers convenient connections to and from all of the aforementioned airports. Bookings may be placed online via their web site.
Travel by Rail
You can plan your trip to Oldenburg travelling by rail, and also book ticket, via bahn.com. As mentioned above, your destination is called Oldenburg(Oldb), to distinguish it from Oldenburg in Holstein.
Travel by Car
Coming from the Autobahn junction Oldenburg-Ost you take the A28 to Emden/Leer. Leave the Autobahn on Exit Haarentor and take a right turn into Ammerländer Heerstraße at the first traffic lights. Follow the street for 800 meters and turn left into Uhlhornsweg at the second intersection. You have reached Campus Haarentor.
The right-hand side map above is available as PDF.
Oldenburg Public Transport
Public transport in Oldenburg is offered by VWG bus lines (see bus lines map below).
Campus Haarentor (Ammerländer Heerstraße/Uhlhornsweg) is serviced by bus numbers 306 "Universität", 310 "Wehnen/Famila-Center" and 324 "Infanterieweg".
Map of Oldenburg
Here you can see the hotels, bars and restaurants in Oldenburg. The red ovals are the hotels, the yellow are the Bars and Restaurants and the green are the main bus stops to go to the CSMR.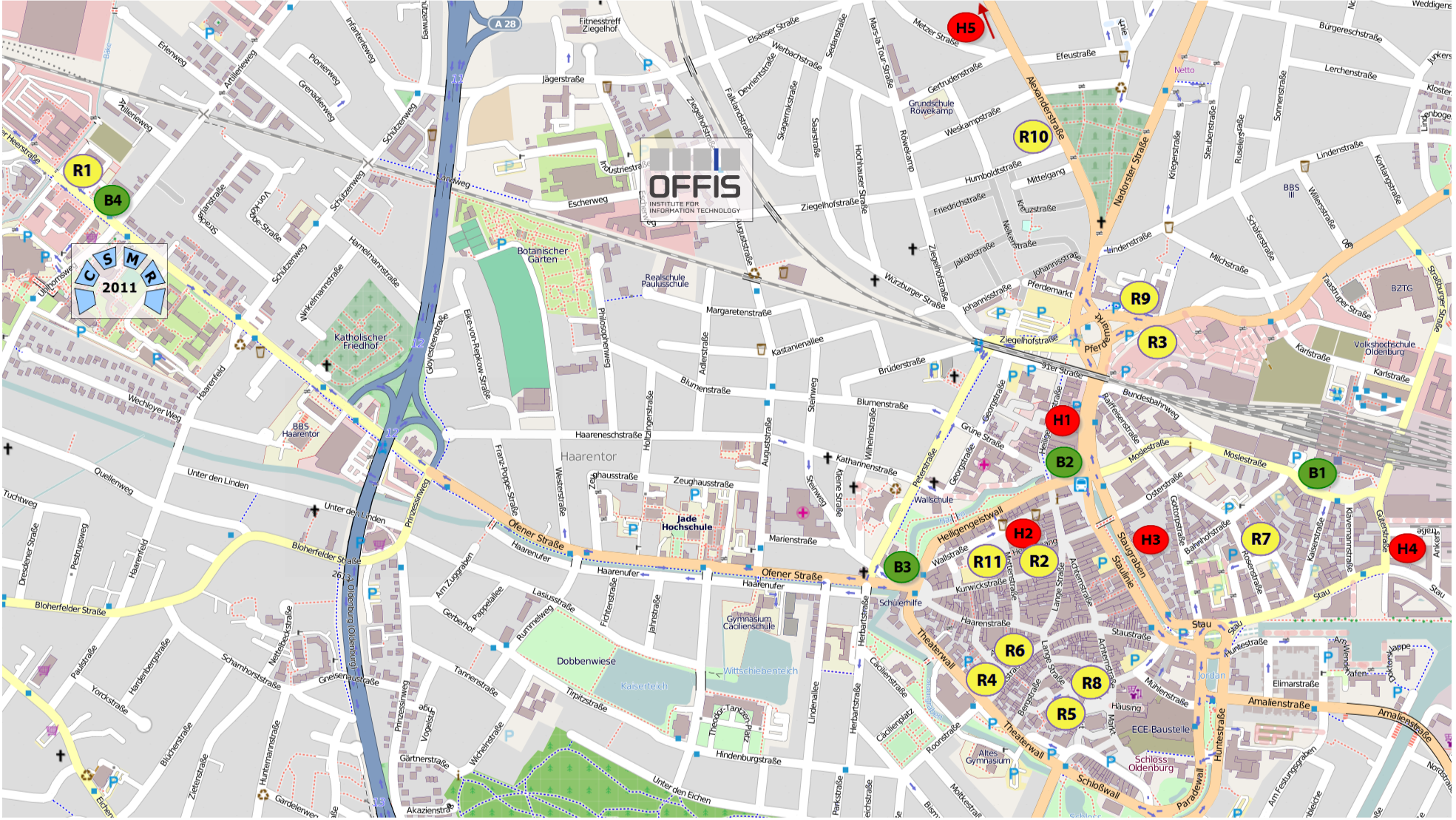 Legend
H1: Acara GmbH
H2: Altera Hotel im Herbartgang
H3: Antares
H4: Hermes Hotel Oldenburg GmbH
H5: Best Western Hotels

R1: Ali Baba
R2: Altera
R3: Bei Franz
R4: Bestial
R5: Casa Vecchia

R6: Kleine Burg
R7: Patio
R8: Ratskeller
R9: Rodizio
R10: Tafelfreuden

R11: Wallstraße
B1: Train station
B2: Lappan
B3: Julius-Mosen-Platz
B4: University (CSMR)